Your quest for membership growth comes with a lighter challenge
All the difficulties of yesterday's marketing dreams have become reality.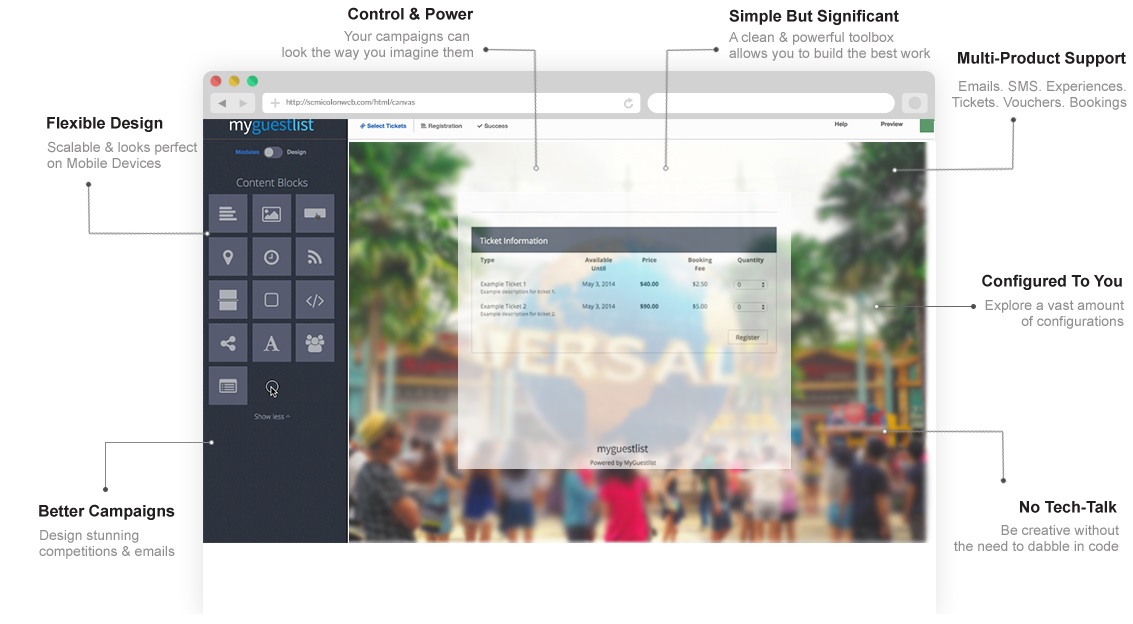 Experience the
difference
Convert database subscribers in to members without the need for intrusive or discount-oriented campaigns.
Introduce new customers and allow existing ones to spread the word of your brand to their social circle of friends.
Combine carefully crafted competitions and powerful, automated messages from the one platform.
Features
Grow members and speak to them at the right time.
INTELLIGENT CUSTOMER PROFILES
Combine data from all existing systems and auto-collect from online profiles, to know your members inside-out.
DATABASE GROWTH
Let MyGuestlist collect new customer data for you in over 13 different methods.
1:1 CONVERSATIONS
Have personal conversations with customers based on their life-cycle or sticky-factor with your brand, avoiding stale one-size-fits-all campaigns.
Multi-site, multi-person
The sometimes complex web of hierarchy within national fitness and recreation brands' management, is made simpler with collaboration and group administration tools, be it privately owned or a franchise model.
EVENTS & LAUNCHES
Product launches & events aren't just social gatherings. They are database & relationship builders. MyGuestlist is the only platform to perfectly blend in event management tools with marketing ones.
NATIONALLY-RECOGNISABLE CAMPAIGNS
Construct campaigns in minutes but be remembered for generations as your campaign organically reaches hundreds-of-thousands of eyeballs.
BETTER COMPETITIONS
Crafting competitions which blend in the online and social world with that of the real one and your stores, is what MyGuestlist does well. Watch participation grow each day with key database contacts becoming brand ambassadors.
MULTI-TEAM MEMBER COLLABORATION
The world's best retail brands have multiple team members making the magic happen. Let MyGuestlist provide you with the mechanisms to allow that magic to come to life.
NO CONTRACTS OR MINIMUM PERIODS
Retails know that the best products aren't complicated nor forced upon the customer. They are simply desired.
What Experts say
The world's leading thinkers on intelligent marketing
In the 21st century, the database is the marketplace.
To get the right message to the right person at the right time you first need to get the right data to the right database at the right time.
Money is the best feedback.