Lead your industry by example
Build specifically for multi-person teams with advanced marketing needs.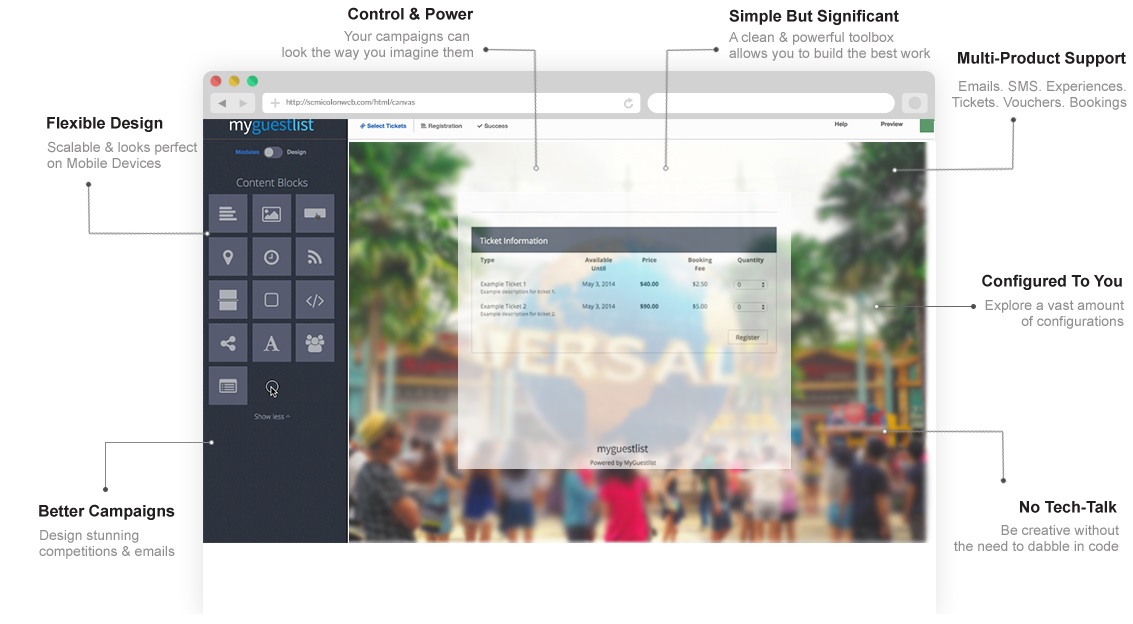 Experience the
difference
Built specifically for multi-person teams with advanced marketing needs. and designed so that you'll never have to measure ROI based on open rates or clicks again.
Discover an un-parallel amount of customer growth & marketing tools available under the one platform, making MyGuestlist the natural choice for any mid-sized or large marketing team with a strong requirement for delivering results beyond just static, tired campaigns.
MyGuestlist provides real tools to correlate revenue generated from each campaign to completely grasp which of your marketing activities are generating results and performing as desired.
Features
A powerful set of tools for the modern marketer.
ADVANCED/UNIQUE SEGMENTATION
Create any custom rule or trigger in your database for a true 1:1 conversation with customers.
DATA AUTO-COMPLETION
You can't always know everything about your customers. Allow MyGuestlist to automatically fill in the gaps of your customer data.
EMAILS WITH ROI
Create beautiful emails in an easy drag'n'drop editor with direct correlation back to real-world customer activities.
TRANSACTIONAL SMS
The world's best franchises and groups use SMS to set automatic thank you, reminder, confirmation and invite messages.
TEAM COLLABORATION
Communicate more effectively with your team and craft processes to save thousands on back-and-forth emails and calls between multiple account operators.
CONNECTS TO 3rd PARTIES
Sync all your data across multiple systems in one platform, without the meetings, documents and data integrity concerns.
BUILD BETTER COMPETITIONS
Explore multiple game-of-skill based mechanics to create competitions which are loved and shared by your own customers to their social circles.
UNIQUE EVENT MARKETING
Allow for carefully sequenced pre and post-event triggered communication messages to marry your marketing activities with your event management and product launches.
MEASURE REVENUE
Determining the success of a campaign based on open rates and link-clicks is a relic of the past. Modern marketers can now stop guessing and understand which campaigns have generated financial success.
What Experts say
The world's leading thinkers on Intelligent Marketing
In the 21st century, the database is the marketplace.
To get the right message to the right person at the right time you first need to get the right data to the right database at the right time
Money is the best Feedback