Let your visitors leave with a life-time memory
Discover the magic of repeat tourism visits and powerful word-of-mouth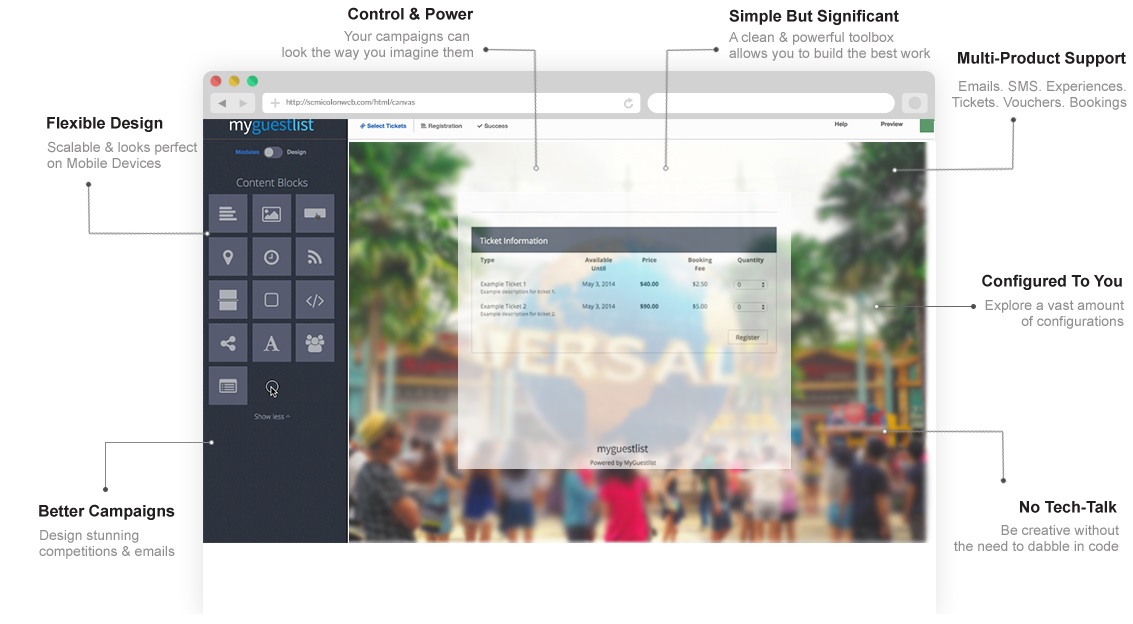 Experience the
difference
A lifetime's experience of magnetising visitors & guests to attractions, venues and tourist locations is a core asset of the MyGuestlist product & team.
Introducing new visitors and allowing old ones to spread the word of your attraction to their social circle of friends is what MyGuestlist does best.
Combine carefully crafted competitions and powerful, automated messages and ticket/merchandise sales from the one platform.
Features
Helping marketers attract 28M+ visitors & guests in just one calendar year.
INTELLIGENT DATA CAPTURE
There are multiple touch points for data capture both on premise and online. Let MyGuestlist accommodate and merge data intelligently for all.
JOINT VENTURES
Attracting children, families or any other tourist segment can be greatly enhanced with the participation of other brands to aid in the expedition.
CUSTOMERS AS THE PR MACHINE
PR works best when your visitors are the ones which are talking about your brand. MyGuestlist turns loyal visitors in to brand champions which pioneer and push your experiences to their social circles.
COMMUNICATE BETTER
Avoid sending out only general newsletters and settling on the belief that that's the best way of doing things.
TICKETS. VOUCHERS. MEMBERSHIPS
Blend in all your operational and E-Commerce activities with your marketing ones. Visitors interact with you in many ways and MyGuestlist understands and amalgamates data from multiple different touch-points.
CREATE NATIONALLY-RECOGNISED COMPETITIONS
MyGuestlist has been used to create and promote large, national competitions attracting hundreds of thousands of participants for tourist locations around Australia.
WHAT'S WORKING & WHAT'S NOT?
Don't guess which campaigns, competitions or messages are producing results. Avoid vanity metrics and for the first time, directly correlate revenue generated with the campaign which caused it.
MULTI-TEAM MEMBER COLLABORATION
The best teams have multiple members working on what they know best. Make communication between team members seamless and prohibit any knowledge loss accumulated by any one team member.
NO CONTRACTS OR MINIMUM PERIODS
Any activity or practice which works well and provides value for your brand, doesn't need to feel like a commitment.
What Expert say
The world's leading thinkers on intelligent marketing
In the 21st century, the database is the marketplace.
To get the right message to the right person at the right time you first need to get the right data to the right database at the right time.
Money is the best Feedback.